Year 9s: Thinking about GCSE options and next steps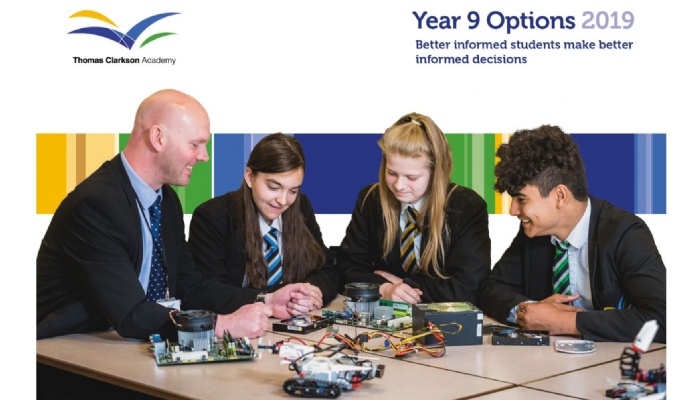 Year 9 students are giving careful consideration to their next steps ahead of making some important decisions about their GCSE options.
A recent options evening was well-attended by families keen to know more about the process and take the opportunity to speak to department staff.
Students also had the opportunity to speak to our careers leader and can make any future appointments to see her through their form tutors.
Year 9s now have the chance to think about which subjects to opt for and which subjects would be beneficial to any future plans.
We spoke to some students for their thoughts on the decisions they'll be making.
Cameron Richmond said he will be opting for triple science as he would like to secure a job in the medical field.
He said: "I got advice from my teachers about going for pre-med subjects so I'm definitely going to do triple science as I'm hoping to take A levels in biology or chemistry.
"These decisions are the foundations for our future and it seems more real now, undoubtedly.
"At the options evening, I asked lots of questions and everything was answered clearly. I came away knowing a lot more than when I went in. The whole process has been explained very well – it's been excellent."
Matthew Skuse said he will pick drama as an option, as he is keen to pursue his dream of becoming an actor. As he is also interested in programming, he is planning to take computer science too.
He said: "I found the options evening very helpful, knowing what we will be doing for the next two years and what we need to do to achieve better grades."
Ellie Smith is planning to follow the full EBacc pathway, selecting French, geography and triple science as her options. As she hopes to become a doctor, Ellie is aiming to secure a place at university when she leaves school.
She said: "I asked the science staff about routes into medicine and I looked around all the stalls on the night.
"I recently went on a trip to the University Centre Peterborough and I asked about the options I would need to take to do certain courses."
To view the options booklet, click here.
Important dates:
Thursday 7th March, 4.30pm to 7pm: Year 9 parents' evening (information on the new online booking system can be found here)
Friday 8th March: Deadline for returning Options Form