BWT Big Book Quiz 2019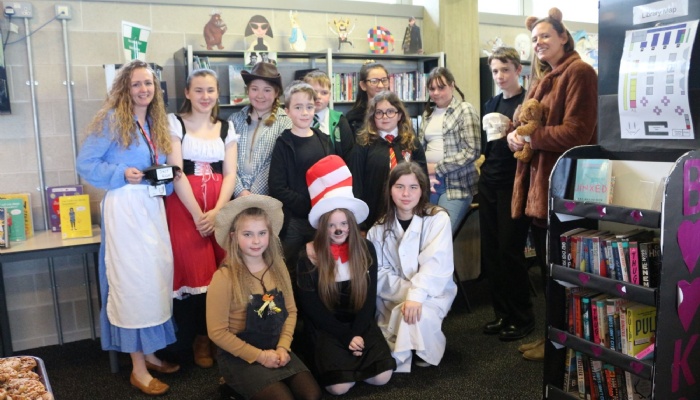 There was much fun to be had when a group of our students went head-to-head with other students from the Brooke Weston Trust for the much-anticipated 2019 Big Book Quiz.
In preparation, all students were given a reading list of 20 books under the themes of:
Step inside my shoes
A touch of magic
I can't remember the title but the cover is yellow
It's a mad world
Teams came together to compete at Corby Business Academy, with a quiz on what they'd read and some physical challenges based on the books and their characters.
Students also heard from popular author Dave Cousins, who wrote Waiting for Gonzo and 15 Days Without a Head.
With lots of fantastic fancy dress outfits on display, prizes were awarded for Best Costume, along with the Heroes Award for outstanding student contribution.
The winner from TCA - Kacey Johnson who dressed as Cat in the Hat - won both! Well done Kacey!
Librarian Miss Robinson said it was a very enjoyable event which helped to engage students even further with books and reading.
She said: "The guest author, Dave Cousins, gave a brilliant talk that was funny and inspiring - you could hear a pin drop as he spoke of his life and what inspires him to write. He gave examples from his family life and talked about how clumsy his son is, so the idea that if anything can go wrong it does go wrong was built into the character of Oz in his book.
"He gave the students an insight into his perseverance, saying that not everything he writes is good first time. He told them he was writing for seven years in his attic at 5am each day, freezing cold with his scarf wrapped round him and fingerless gloves on, before he came up with his first book.
"Students really enjoyed all the quiz activities and showing off their book knowledge. I think they also enjoyed seeing the librarians from all the schools eat the jelly sweets – it was pot luck if they were nice or foul tasting!
"Our students were all impeccably behaved throughout the day and showed great enthusiasm, creativity and teamwork. It was great to see them actively taking part in and enjoying the book related events/activities."
Miss Robinson thanked Sixth Former Anna Ivaskevica for her help with the Big Book Quiz club sessions.
Poppie Stratton in Year 7 said: "The most fun part was the physical challenges. They all related to the books as they were things that the characters in the books would do.
"It was a good experience to spend time with other people in both Year 7 and 8 and work as a team. I liked reading the books because they were different to every other books I have read. My favourite from the list was One because it was a diary that told you about the character's struggles and how they got through them."