High Book Turnover with Accelerated Reader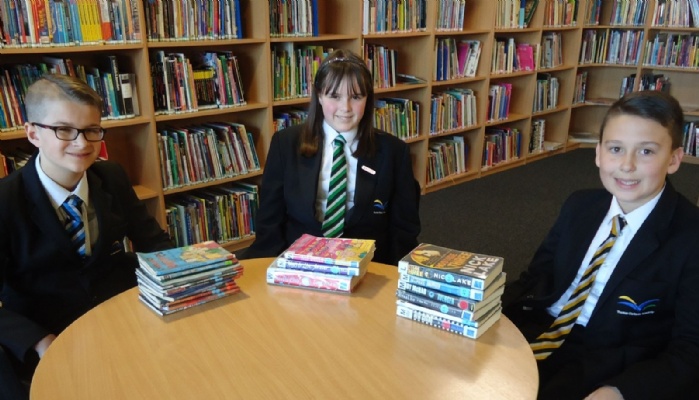 A reading programme designed to foster and encourage a love of reading has led to several of our younger students reading more than 30 books since September.
Students in Years 7 and 8 participate in Accelerated Reader, an online quiz which tests students' comprehension of a book once they've finished it.
As well as encouraging students to read more, Accelerated Reader also provides teachers with invaluable information about reading ages and students' understanding of a text.
It is part of a drive across TCA to improve literacy, with initiatives including reading for 10 minutes at the start of every English lesson and one lesson a week designated to reading.
Since September, 420 Year 7 and 8 students have read 4,576 books between them through the Accelerated Reader programme. Students read books dependant on their reading level.
The students who have read the most amount of books include:
Ellie Love (47 books)
Emily Drew (39)
Keeley Ross (47)
Jack Forth (40)
Konrad Burchart (39)
Morgan Kirk (33)
Mackenzie Short (42)
Jack said: "I didn't read that much but then I got really into it and I enjoy the challenge of Accelerated Reader. I find reading quite calming."
Mackenzie, who likes reading books with a sport or horror theme, said: "I'm not really a big reader but this has helped me to enjoy reading more. I think it's helped me with my spelling."

Keeley said she enjoys reading funny books, especially those by David Walliams or Roald Dahl. She also said she finds reading calming, adding: "Accelerated Reader has helped me to read more than I would do normally."

Each book also has a points score depending on its complexity, so those reading more difficult books achieve a higher points score.
Literacy Lead Mr Kyasiima said: "Accelerated Reader has got many students reading more than they may have done otherwise. It goes a long way in promoting reading and it can have a very positive impact.
"It's about giving students a focus. The expectation that they read has also helped, as has giving students the opportunity to pick up a book and read."
Accelerated Reader has helped to improve the reading ages of our younger students – read more here.