Three days of hiking and camping for Duke of Edinburgh group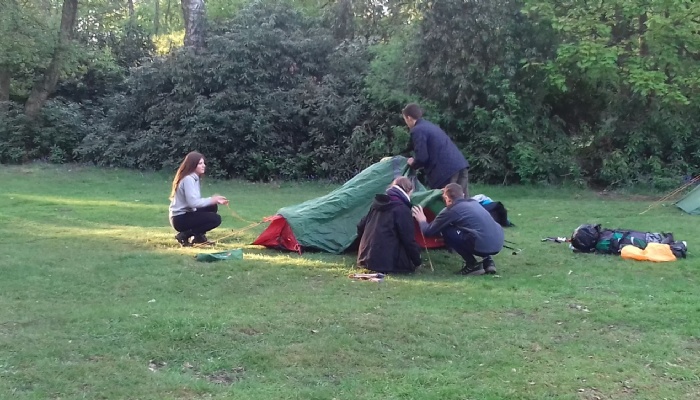 Six students who are working towards their silver Duke of Edinburgh award spent three days hiking, navigating, camping and cooking their own meals.
TCA staff dropped the group off at Abbotts Bromley in Staffordshire and they had to navigate the 16km to their campsite in Cannock Chase without supervision.
Despite the challenges of carrying all their equipment and facing an onslaught of hail, the students arrived safely at their camp site. One of the things they will be assessed on is being able to cook a substantial meal so the practise expedition gave them the opportunity to hone their cooking skills, with pasta, rice and sausage dishes being served up.
The students de-camped the next morning, walked 15km, set up camp again and then walked a further 13km on the last day.
Another of the award's criteria is that participants must hike across unfamiliar terrain, so walking up steep inclines added to the challenge.
DoE manager Jeff Wilson said: "What some of them found hard was the amount of equipment they had to carry so they were definitely tired by the end but there was very little complaining. There was a 20% incline on one of the hills – I think they missed the Fens!
"The group was made up of two Year 10s and four Year 12s so the trip helped to bring them together. We played little pranks on them to help break the ice and to take their minds off their sore feet.
"One of the older students is a member of the Combined Cadet Force so he helped to lead the group.
"They've learnt a few things ahead of their assessed expedition in July, such a remembering to bring certain things like washing up liquid."
The group now has to come up with an aim to their assessed expedition – it could be looking at the local architecture or the land use of the area.
The group has to undertake other activities in the three categories of volunteering, physical and skill.
These have included volunteering in school to tutor science and French; table tennis; cooking; sewing; and learning guitar.
Anyone who is interested in taking part in the Duke of Edinburgh award next year should speak to Mr Wilson.