Meet the new head of Year 7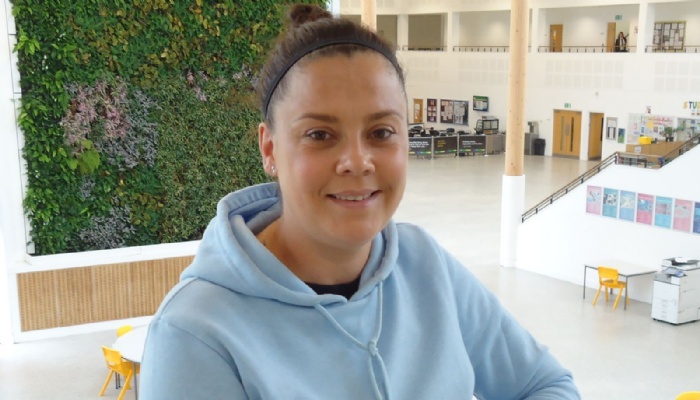 Year 7 Raising Standards Leader Mrs Thomas is looking forward to meeting our new cohort in September.
Here we find out a little more about her and her hopes for the new year group.
What is a Raising Standards Leader and what does it involve?
The role of a Raising Standards Leader (RSL) is to monitor students' attainment and progress, and to ensure interventions are in place for those who may need extra support. Student Services and I work closely with families so we are the first port of call for parents and students.
Tell us about your time at TCA so far:
I have worked at TCA for five years as a PE teacher and I love my job. I began as a Progress Leader which evolved into the RSL role. I was previously RSL for Year 10 so I'm looking forward to working with the lower school students.
What do you enjoy about your role?
I like being hands-on with the students and having a good rapport with them.
What do you expect from the new Year 7s?
A positive attitude! And no regrets.
And what can they expect from you?
They can expect someone with high expectations. I want them to have fun, work hard and take advantage of the opportunities available. It will be great to see them begin their journey at TCA and I want to get them off to a flying start. When I'm responsible for a year group, I make sure I look after them. I'm approachable and students feel comfortable coming to me.
What will the Year 7s' first day look like?
When they arrive, they will go to the theatre first for assembly/welcome. They'll meet their tutor and will then be escorted to tutor time, which will include ice-breakers and useful information. Then it will be normal lessons with breakfast and lunch. Staff will be on hand to help students when the day ends to ensure they make their way to the right buses.
My advice to the new students would be:
Take every opportunity that comes your way. Don't waste a single day.
What's your favourite thing about TCA?
The students because they make it what it is.
Who's the funniest member of staff at TCA?
Am I allowed to say myself?! Close second would be Mrs Ziebart.
Tell us about some of the highlights from your time at TCA:
My Year 7 netball team winning Team of the Year at the Brooke Weston Trust sports awards in 2017; winning sports day with my community two years in a row; and getting this job working with Year 7s.
What's your favourite sport?
Football. I support Luton Town. I bumped into a Year 11 student at a game so there's definitely one other Luton supporter at TCA that I know of!
Fun fact about me:
I have played in an FA Cup semi-final. I played for Barnet for seven years and as well as being promoted to the premier league, we made it to the FA Cup semi-final against Everton.
Prior to that, I got a scholarship to play football in America. I went to high school in New Hampshire and won the state championship with the school. It was amazing – there were thousands of people there to watch us and when we won, it was all over the newspapers. It was amazing.
That idea of taking advantage of opportunities is something I want to share with my students. I was offered that opportunity and it proved to be a stepping stone for me because I went on to play for Barnet when I came back. Doing things like that makes you more resilient too – I was 18, I had never been away from home before and suddenly I was on the other side of the world, staying with a host family. It was daunting and there were a few tears in the early days but it was an incredible experience and showed me that nothing good comes easily. That's why I want my students to make the most of the opportunities on offer as it opens doors for them.
Fun fact about TCA:
When we put the Christmas tree up in Eden, it almost reaches the ceiling….and TCA is a three-storey building!
Who should students speak to if they have any questions?
They can speak to me, Mrs Laws in Students Services, their form tutors or any member of staff.
Who should parents/carers contact if they have any questions?
The same as those mentioned above – my email address is cthomas@thomasclarksonacademy.org or if I'm teaching, parents can also email Mrs Laws on jlaws@thomasclarksonacademy.org