TCA are BWT Bake Off Winners!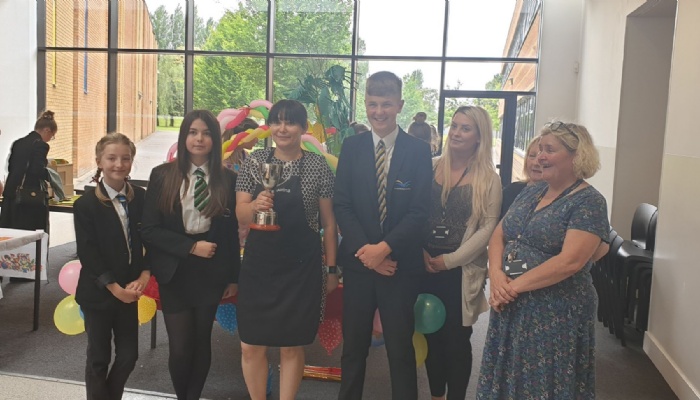 TCA was crowned this year's winner of the Brooke Weston Trust Bake Off in the culmination of the popular and hotly contested competition.
Our three finalists teamed up to go head-to-head with other schools within the Trust, and their colourful, summer-themed menu bowled over the judges.
The offering from Hollie Dixon, Seth Briggs-Williams and Diana Pogodina was described as 'one of the best we have seen since the Bake Off began'.
Their menu featured:
Homemade burgers in homemade bread
Fruit tarts with homemade pastry and homemade custard
Pasties
Lemonade
Quiche
Cream horns
The competition started in-school, with one student being eliminated each week in the battle to reach the final.
The judging panel was made up of two members of the Trust central team, plus two food suppliers for Brakes, the company which donated the produce for the competition.
They judged the entries on three elements, consistency, presentation and taste, before deciding the trophy should go to Hollie, Seth and Diana.
Food teacher Mrs Tjurina praised the trio for their ability to work together. She said: "They were a very good team, helping each other and all having a hand in each part of the menu.
"They did a great job. This was Hollie's second final so it shows how much her skills are developing.
"I'm very proud of them."