Students' action-packed trip to Paris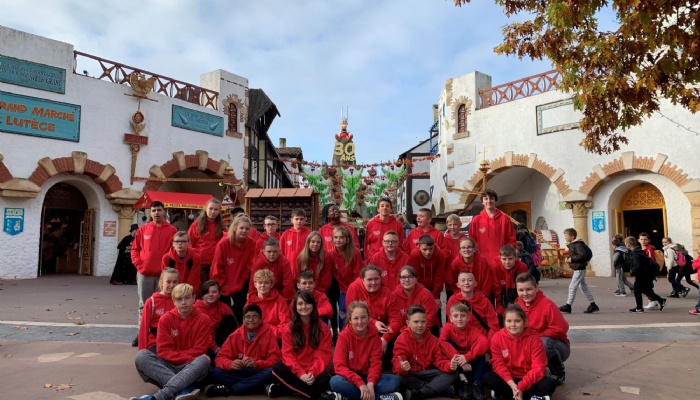 A group of students and staff spent four days experiencing French culture during a visit to Paris.
Thirty-four students and four staff returned happy and full of stories following the half-term trip. Students enjoyed some time at one of Europe's largest aquariums, Nausicaa Sea Life Centre, where they saw tropical fish, manta rays and sharks, and got to enjoy a sea lion show. Students also became movie stars at the famous Parisian Étoiles du Rex Cinema, making short films and practising their best actor impersonations.
An entire day was spent at Parc Astérix, an amusement park centred on the popular French comics Astérix and Obélix. Roller coasters, water flumes, flying discs and haunted houses had many students eagerly moving from one ride to the next. For many, it was their first time at an amusement park so they were able to step out of their comfort zone and test their fears – something that continued that evening when they had the opportunity to eat some escargots (snails)!
Students also climbed to the very top of the Eiffel Tower during their trip to Paris and got to see the incredible views from the top floor. The weather was perfect and students really worked together to encourage each other not to be scared of being so high up.
On the final day. the group visited the Canadian War Memorial at Vimy Ridge and students had the chance to go through the trenches and tunnels created and fought
in during World War One. Vimy Ridge is dedicated to all Canadian soldiers who fought and died in their mission to help during WWI.
"After the tour, one of our guides said to me that she was really impressed at how respectful and polite our students were and that was really great to hear. I really like bringing the students here because, being Canadian myself, it's nice to share this part of history with them," said the trip's organiser, Miss Willows.
A second trip to Paris is already set for February 2020 - keep an eye out for details.