Paired reading initiative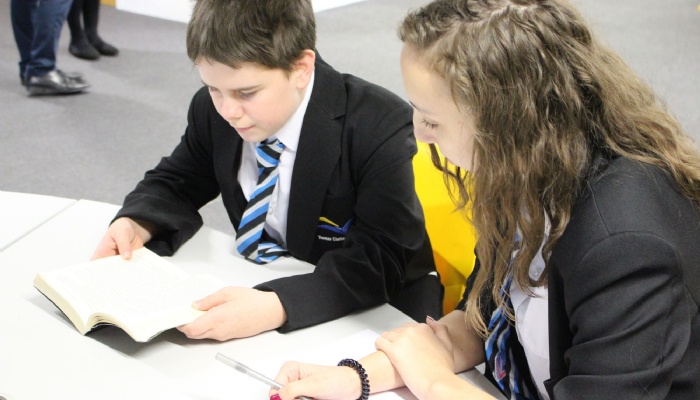 Year 7 students have been spending time reading to their older peers to help develop their vocabulary and foster a love of reading for pleasure.
The paired reading programme, which is a collaboration with Wisbech Reads, sees Year 7 students meet once a week with their Year 10 reading buddy during tutor time.
They are encouraged to record what books they have read, add their comments and write down the words they found particularly challenging. There are cinema vouchers on offer for those who make the most progress in their reading.
In addition, the Year 10s can collect time credits for the hours they spend volunteering and with support from 20Twenty Productions, these can be converted into things like cinema vouchers, a gym pass or even a London theatre trip.
The Year 10s will also become reading ambassadors for Wisbech Reads, representing TCA at events.
Mr Bronizewski, Key Stage 3 Leader of English, said the scheme will help Year 10s to broaden their own literacy skills.
He said: "Our Year 7s are working with the same person each week which helps to build a relationship. We want to further develop our students' appreciation of literature and reading."
Among those taking part is Year 7 student Brandon Dixon, who said: "It's definitely helping me to read
more and more. I wasn't reading outside of school so doing this is really helping, and it's encouraged me to start reading in my spare time."
Brandon's reading partner is Saul Coleman in Year 10, who said he's already noticed a big difference in Brandon's reading in the time he's been working with him.
Saul said: "I've seen such a significant improvement in Brandon's reading since we started eight weeks ago.
"I really like the idea of using my own time to help other students and I know how important even one book can be, and how important reading at home is."