Hare Today, Gone Tomorrow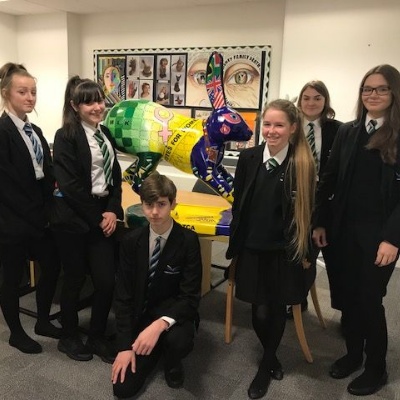 TCA's contribution to the GoGoHares trail will soon be installed in Norwich after a group of Year 9 students created an artistic representation of the Academy.
The group – made up of Sophie Quartly, Harmonie Mattless, Daniel Almeida, Bailey Cordell, Samantha Hawes, Jenna Keeley and Balint Kuna – were given a blank hare sculpture to design.


Now complete, the hare has left TCA and will be located somewhere in the city from July to September (location to be confirmed). The community art project aims to raise awareness of Norfolk children's charity, Break.

TCA's hare featured the colours and themes of our three learning communities, Madiba, Pankhurst and King (Nelson Mandela, Emily Pankhurst and Martin Luther King).

The Go Go Create project is being organised in conjunction with Wild in Art and once the GoGoHares trail is over, TCA's hare will be returned to the Academy to be put on display.