Field Trip Brings Biodiversity Studies to Life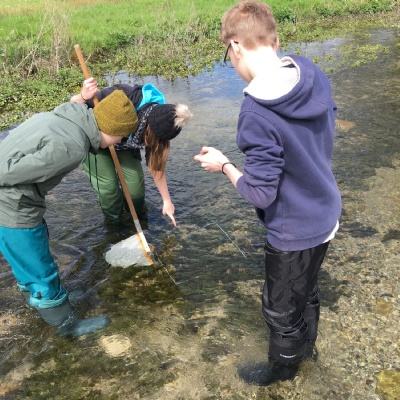 A group of Year 12 A level biology students developed skills in collecting field data during a recent four-day residential course at a highly regarded field study centre.
During their stay at the Cranedale Centre in North Yorkshire, students used a range of sampling techniques which enabled them to meet part of the ecology and biodiversity section of their A level. The aim was to gather real-time, live data in the field and then process the collected data using different statistical analysis techniques, including Chi2, T-test and Spearman's Rank Correlation Co-efficient.
The students visited different ecological sites including a local fresh water chalk stream and river to investigate biodiversity, a sand dune ecosystem at Filey to investigate sand dune succession and a rocky shore at Bempton Cliffs to carry out analysis of the effect of desiccation. The students carried out a small mammal survey of local woodland and also carried out analysis of the diet of local barn owls through dissection and microscopy of some of their egested pellets.
Science teacher Mr Cobby, who accompanied the group, said: "For the first time, our students also had
the opportunity to visit a commercial trout fishery to assess energetics through the system, from hatched eggs called alevins and growth stages including fry and parr, eventually becoming adult rainbow trout ready for the open market. The students also assessed the fishery's impact on the environment by comparing the quality of the water as it leaves the fishery and re-enters a local chalk stream with the water before it is diverted from the chalk stream into the fishery. The water running through the chalk stream originates from an aquifer in the North Yorkshire Wolds. From the data the students collected and analysed on site they found that the rearing approach taken by the company was not only surprisingly efficient with little energy loss but also had virtually no negative impact on the immediate environment."
He added: "I was impressed with the keenness our students demonstrated and their diligence in working long hours late into the evening to successfully complete their work. Their feedback at the end of the trip was extremely positive.
"As a school we would like to thank the family who own and manage the trout fishery for allowing our students to carry out their research."
Joseph Beresford is studying for A-Levels in biology, chemistry and maths and is hoping to study environmental science at university. He was among those who went on the trip and he commented: "It helps to show how the theory can be applied in the real world and the trip allowed us to carry out sampling techniques in the right circumstances. The practical side helps us to learn the theory a lot faster."