Donated Toiletries Handed Over to Homeless Shelter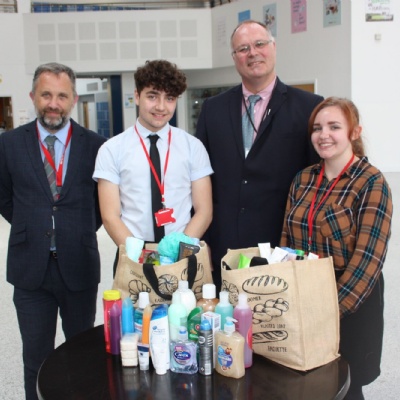 Students and their families have been collecting toiletries to donate to Wisbech's homeless shelter after TCA teamed up with the charity which runs the centre.
The Academy has chosen to support the Luminus Ferry Project which provides help to the homeless in Fenland.
When staff at the Ferry Project appealed for the donation of toiletries, students and families were happy to help. As a result, bags of items were handed over to Keith Smith, the Ferry Project's Director.
TCA is also helping to support the charity by giving its leftover food to the shelter wherever possible – one of the first schools in the area to do so.
Associate Principal Richard Scott said: "Thomas Clarkson Academy is a community school and our students and staff feel it's very important to recognise the difficulties some people in the local community face. We have an acute awareness of the good work being done by the Ferry Project and we believe we have a responsibility to help them as best we can."