Royal Appointment for Students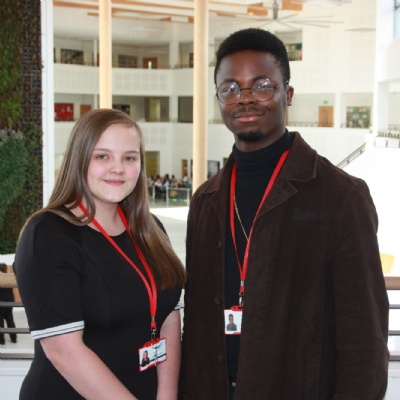 Two students will meet HRH The Prince of Wales next week after being selected to help co-host an awards ceremony with comedian Sir Lenny Henry.
Charlotte Cameron and Sebastian Njingo have been chosen to help host the Responsible Business Awards gala dinner held by Business in the Community at the Royal Albert Hall. They were selected for the role after entering a youth talent competition organised by Anglian Water, a partner organisation of the awards.
Business in the Community is one of The Prince's Charities, a group of not-for-profit organisations of which Prince Charles is the Royal Founding Patron. As he is unable to attend the awards ceremony at the Royal Albert Hall, those involved have been invited to Clarence House on June 26th to meet him. Charlotte and Seb both received a formal invitation from Buckingham Palace in the post inviting them to the prestigious event.
The pair secured their places after compiling short videos for entry into Anglian Water's youth talent competition. Charlotte, who is in Year 13 and is going on to study philosophy and politics at King's College London, spoke about her involvement in Wisbech for her two-minute film. She has worked with Business in the Community in the past and has undertaken work experience at Fenland District Council in relation to Wisbech 2020.
Seb, who is in Year 12 and is hoping to study maths or digital engineering at university, used his video to demonstrate his passion for music production and how people can develop their talents to help put Wisbech on the map. A third student, Chloe Browne in Year 13, also impressed the judges and was voted in as a reserve for the awards night on July 3rd.
Responsible Business of the Year Project Manager Bethany Charlton, from Anglian Water, told them: "We absolutely loved your determination and passion that came through in your entry, your involvement in events that have been held across the town and your positivity for the town's future."
Seb and Charlotte will receive training prior to the awards ceremony and are looking forward to learning more about their roles. Charlotte said: "We've both presented to large audiences before but nothing like this. We'll be calm on the outside but I'm sure there will be some nerves."