Book-opoly Winners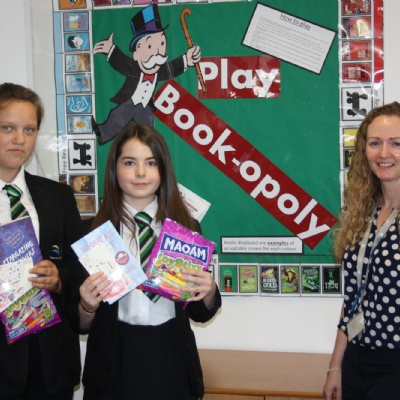 The winners of a reading competition based on the game of Monopoly have been revealed.
A giant replica of the popular game was displayed in the library and students made their way around the board by reading books with covers that matched the colours of the different sections. There were recommended reads in each block or students could pick their own. There were also 'free reading' squares where students read a book of their choice.
In total, students taking part read 24 books to compete the challenge and everyone who finished it were awarded a certificate and some chocolate.
They were then entered into a prize draw and the lucky winners, Hollie Dixon and Karolina Karosaite, were awarded a £20 Love to Shop voucher, a bag of sweets and a book.
Holly said it took her around three months to finish the challenge. She said: "Choosing books by colour encouraged me to read a different variety of stories to what I'd normally read. My favourites were After the Fire by Will Hill and Spilled Water by Sally Grindley."