Tennis Star to Play at Wimbledon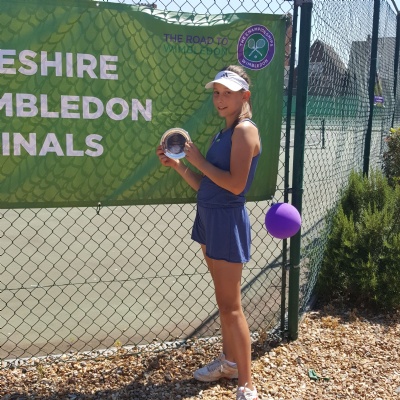 A talented tennis star will play at Wimbledon after making it to the final of the biggest junior tournament in British tennis.
Sophie Tjurina in Year 7 has been competing in Road to Wimbledon and recently won the county stages, which means she progresses to the national finals and will compete on the world-famous courts in August.
What makes Sophie's achievement all the more remarkable is that the competition, which is organised by the Lawn Tennis Association, is open to under-14s and Sophie has just turned 12.
Sophie, who trains and plays with LK Tennis Academy around five times a week, won all three games in the county stages to secure her place in the finals, where she will compete in several games over the course of five days.
She said: "It was always my dream to play at Wimbledon and I would love to play there when I'm older. Playing against others at this level helps me to learn from them and pick up things I can use in my own game.
"My tennis idol is Serena Williams – she just keeps going and never gives up."
Sophie's latest achievement in the culmination of efforts that began when she was just five-years-old and friends invited her to play at their tennis club. When it became apparent that Sophie was a gifted player, she began entering competitions and just a few years later, was playing at a national level.
When she was just 9, Sophie came second in a national competition and more recently, she and her Cambridge team reached the National Finals of Team Tennis Premier 12&U, which takes place at the National Tennis Centre in London this weekend.
We wish Sophie the very best of luck for her upcoming competitions.