Helping Our New Year 7s To Settle In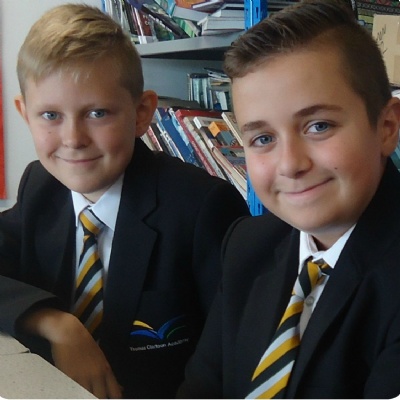 Starting secondary school may seem a daunting time but we have been busy helping our new Year 7 cohort to settle in and find their feet during a busy first few weeks of term.
The year group was given a tour of the building so they could familiarise themselves with the different areas, including the library, Student Services and the restaurant.
There have also been activities during tutor time to help students get to know one another.
We spoke to some of our new Year 7s to find out how they have been getting on.
Tyler described starting at TCA as a "new chapter" in his life. He said: "It's a new school and new friends. I've made some good friends already and I've been finding my way around the school okay."
Jokubas said he is looking forward to joining some of the after-school clubs, while Adam said: "I'm getting to know the school now and getting to know my way around. The tour of the school helped us a lot. The teachers are really nice.
"What I'd say to anyone who will be starting their new school next year is not to worry about how big the school seems because you do get shown round."
Fellow Year 7 student Megan said: "I was excited about starting here and starting something new. I've really enjoyed taking part in PE so far."
Kellice added: "I was a bit nervous about starting but now I'd say to other people, don't worry about your first day as it's a new start on an excellent journey."
Families are invited to find out how their children are getting on at our Year 7 Tutor Evening on Wednesday October 3rd, from 4.30pm to 6pm.