Students Visit Norwich Castle for Recreation of Historical Trial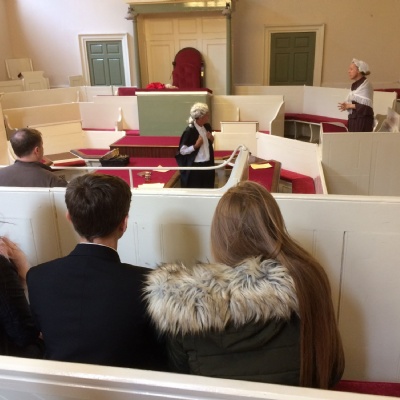 Year 10 students gained an insight into 19th century crime and punishment when they watched the re-enactment of an 1829 murder trial.
The group of GCSE history students visited Norwich Castle where they sat in the courtroom and heard witness statements, performed by actors, from those involved in the real-life case.
The case involved a man in a workhouse who was accused of murdering another man by lacing dumplings with arsenic.
Students were able to question the witnesses and had to decide if the accused was guilty or innocent. Although students decided he was innocent, he was actually found guilty in real life and was executed.
The group also had a tour of the castle, saw the punishment dungeons and took part in workshops on the theme of workhouses, delivered by students from the University of East Anglia.
The special event was funded by Neaco (Network for East Anglian Collaborative Outreach).
CEIAG Ambassador Vicky Read said: "This was the first time we'd done this trip and the mock trial was so well done. Students looked at what evidence was available at that time and gained an insight into what a trial was like then, such as the fact that the jury was made up solely of men, so it was about looking at it in a historical context."
Students also learnt about death masks, where casts were made from the head of the person executed. These were then studied as it was believed that the bumps on a person's head gave an insight into their characteristics.
Year 13 history students and some Year 12s who are interested in law also saw the mock trial at Norwich castle today (October 1st).