Students Achieve Sports Leader Status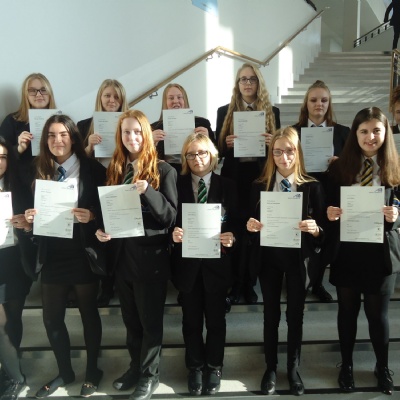 A group of Year 10 girls developed skills in leadership, teamwork and communication with the completion of the UK Level 1 Sports Leaders award.
Seventeen students have been awarded with certificates after taking part in the programme in their Year 9 PE lessons.
The award is aimed at sparking interest in PE and encouraging young people to become good role models.
Over the course of the year, they had to complete various tasks, including umpiring a game and leading sessions by themselves.
PE Teacher Kirstie Smith said: "The programme helped the girls to grow in confidence and gave them a chance to shine. It was great to see team cohesion and by the end, all of them had improved.
"They were working with people they don't normally work with and some of them were out of their comfort zones."
Emma Cottingham was among those who completed the award. She said: "It didn't matter if you started out shy or confident – we helped each other get to the same platform. It also helped me to become more interested in sport."
Neringa Matakait added: "It's taught me that a leader needs to accept people as they are and to make a team work, they have to listen to all voices. It helped me to become more confident in speaking in front of crowds."
Well done to our newly-crowned Sports Leaders: Greta Sirutaviciute, Amy Bates, Katelyn Bowles, Emma Cottingham, Megan Davis, Bethany Drew, Keeley Field, Wiktoria Galazewska, Greta Golubovskyte, Chloe Johnson, Julia Malova, Neringa Matakaite, Kyeisha Mcclagish, Cordelia Pack, Emma Peacock, Hayley-Jade Read and Cristiana Pinto.