Great Response to Christmas Shoe Box Appeal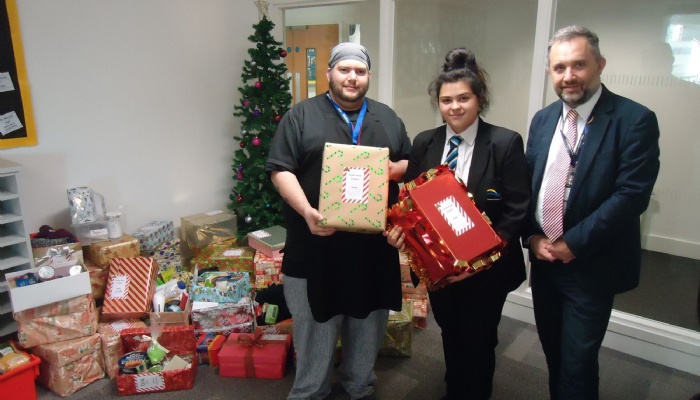 Generous students filled more than 60 shoe boxes with warm clothing, toiletries and tinned food to donate to Wisbech's homeless shelter.
Last year, the Academy teamed up with the Ferry Project to offer support to some of the town's most vulnerable people.
The latest initiative has seen students embody the spirit of Christmas by thinking of those less fortunate than themselves. Each tutor group was asked to fill a decorated shoe box with items that would be useful to those using the shelter. The boxes were collected by the shelter's assistant cook, George Ennis, pictured left in photo above.
Associate Principal Richard Scott said the response to the appeal was overwhelming, with families keen to help in any way they could.
He said: "Our students and their parents have demonstrated their community spirit and generosity towards those less fortunate. In amongst the excitement around presents and the Christmas holiday, our students have found the time to think about others and we are very proud of them."
A recent cake sale organised by TCA's Sixth Formers raised £368 for the shelter. The Academy also makes regular donations of leftover food from its restaurant – the first initiative of its kind in the area.