Author and mountaineer captivates students with tales of Mt Everest climb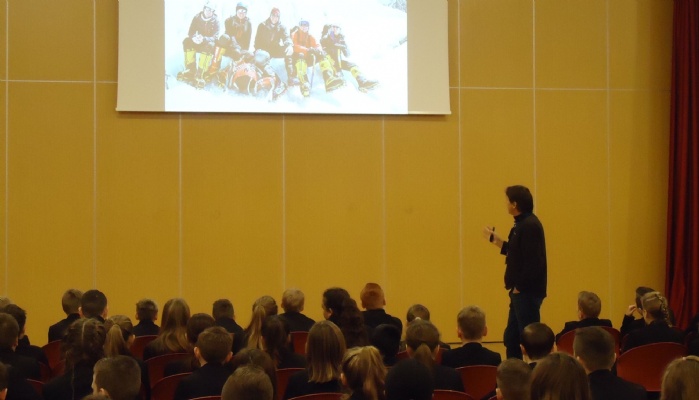 Award-winning writer, filmmaker and mountaineer Matt Dickinson gave an amusing and engaging talk to students about his journey to the summit of Mount Everest.
Matt, whose books for children and teenagers include the Carnegie-nominated The Everest Files trilogy, encouraged students to go on adventures of their own during a talk to Year 7s and primary pupils from Alderman Payne Primary School.
During his filmmaking career Matt has worked for National Geographic television, the Discovery Channel, the BBC and Channel 4. His film projects have taken him to Antarctica, Africa and the Himalaya.
Matt described the challenges that have to be overcome to climb the highest mountain in the world, telling students: "It's 10 weeks without a shower, 10 weeks of using a hole in the ground as a toilet and 10 weeks of no wi-fi."
He entertained students with stories about how his stash of 240 bars of Toffee Crisps started exploding due to the change in air pressure and after explaining that mountaineers melt ice to drink, he advised students: "Don't melt the yellow snow."
Matt asked students whether they would be prepared to risk climbing Mt Everest after informing them that for every one hundred people who successfully make it home, four will die during their attempt to climb it. He described how his fellow climber had to be air-lifted off the mountain after developing acute mountain sickness which meant his lungs filled with fluid.
Matt then encouraged students to think about their attitude to risk and the idea of risk versus rewards, urging students to take advantage of outdoor pursuits.
Explaining that while the cost of climbing Mount Everest can be up to £50,000, Matt said his costs were covered by the film company capturing his ascent. He told students: "My ability to write has been my passport to some incredible adventures."
Throughout the day, Matt led writing workshops with groups of Year 7s, in which they were asked to write an answer to the question: 'If I went to Everest, what would I miss the most?'
He encouraged them to enter writing competitions, such as the BBC's 500 Words competition, set up a blog or contribute to fan fiction.