Student Researches History of WWI Medal Found in Loft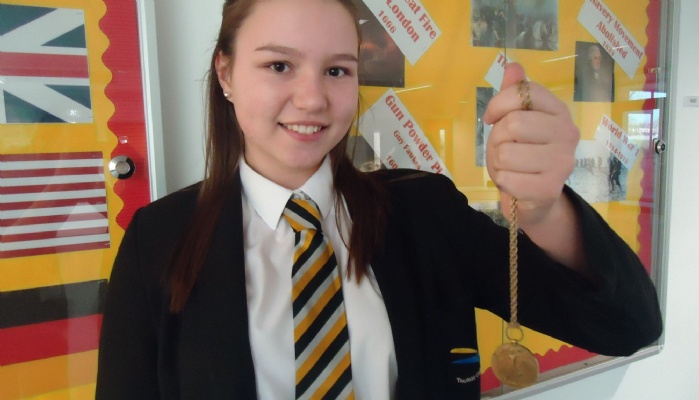 A student carried out some independent research into the history of World War One medals after discovering one in her great-grandmother's loft.
After being inspired by Remembrance Day services, Alisha Cox asked her great-grandmother about her family history in relation to the world wars. It led to her going up into the loft and unearthing a bronze medal in amongst a box of jewellery.
The Year 10 student set about researching the medal and discovered it is an Allied Victory Medal, which were handed out to servicemen and women who entered an area of active fighting during the war.
One side of the medal depicts the winged figure of Victory, while on the back it reads: 'The Great War for Civilisation 1914-1919'. The Allied Victory Medal originally came attached to a ribbon, with the colours representing the combined colours of the Allied nations.
Alisha's great-grandmother had originally thought the medal belonged to her uncle but Alisha said her mum is unsure as the name on the medal – Banks – is not one they are familiar with.
On the rim it reads '45036 SPR A U Banks R.E'.
Alisha said: "I'm really interested in family history and I always enjoyed hearing my great-grandad tell stories about our family.
"I brought the medal into school so I could show [Head of Humanities] Mrs Abrahams and she told me how to go about researching it. I'm not interested in how much it's worth – it's more important that we have it at home, in our family.
"We think it's from my great-grandad's side of the family but he died a few years ago and there is none of his family left. My great-nan doesn't know any more than she's told us so it would be good if there was anyone who could help me find out who this medal belonged to and where it's come from."