Lewis and Sophie Take Centre Stage as Peterborough United's Mascots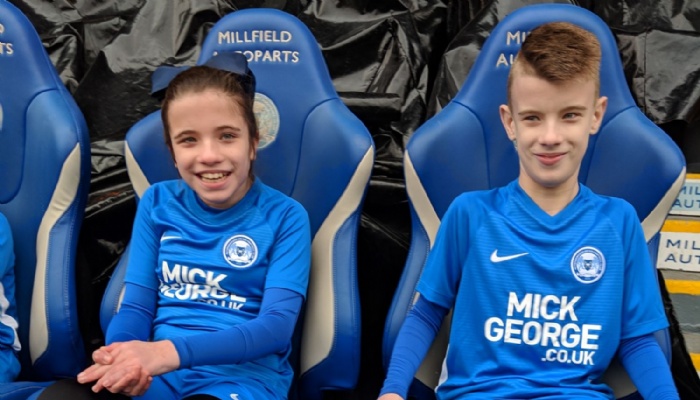 Two Year 7 students enjoyed a day to remember after they were nominated to be mascots for Peterborough United's game against Charlton Athletic on Saturday.
Siblings Lewis and Sophie Clarke were given the opportunity thanks to their dedication to the PAN disability football sessions they attend every Monday, which are run by the Peterborough United Foundation at Peterborough Regional College.
They have been attending for three years and have never missed a session, so their coaches Gavin Slater and Michael Gibbons decided to reward their commitment.
Unknown to Lewis and Sophie, the coaches put them forward to be mascots for a Peterborough United game and in January, their mum received an email from the Free Kicks Foundation, a Peterborough charity which provides football-related activities for ill, bereaved and disadvantaged children.
As well as walking out on to the pitch at the ABAX stadium, Lewis and Sophie received four match tickets each, a Peterborough United kit, a tour of the stadium, a coaching session on the pitch while Peterborough and Charlton Athletic players warmed up and souvenir programmes. They also met players in the dressing room for photos and autographs.
Mum Mandy said: "It definitely was a day to remember. Great memories, an excellent day and more than we all expected. Their coach and tour guide, Simon, was brilliant - he made them feel very special and included them in everything. All the players were lovely too.
"There was just over 9,000 tickets sold, so there were lots of people watching the game. Unfortunately the score was 0-0 - we had wanted Peterborough to get a win. Both Lewis and Sophie smiled all day and they weren't nervous about walking out in front of so many people."