Snow Day Imaginings: Homework Competition Winners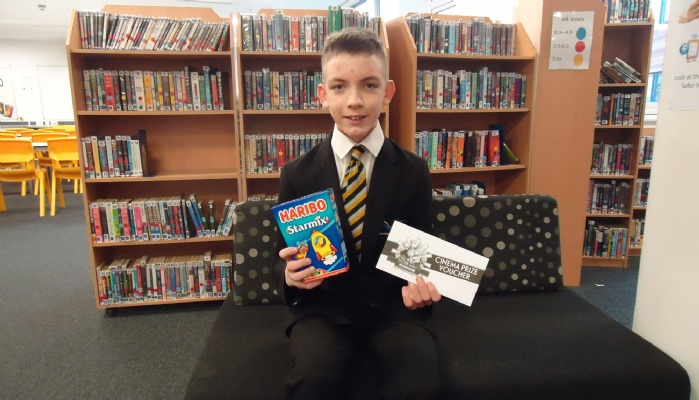 Year 7s put their creative thinking caps on when they were challenged to write about the best snow day they could imagine for a homework competition.
The National Literacy Trust launched the contest in celebration of The Meltdown, the latest book in Diary of a Wimpy Kid series by Jeff Kinney.
Participants had to write a 500-word diary entry about the most exciting snow day they have ever had or could possibly imagine.
Year 7s compiled entries as part of their English homework and after being judged by two members of the English department, the winners were announced by Librarian Miss Robinson. Those awarded 1st, 2nd and 3rd places received a pair of cinema tickets and some sweets, while the three runners-up won some chocolate. All six entries will now be put forward for the national competition.
The winners:
1st place:
Dawid Okon (pictured top of page)
2nd place:
Katya Haggett
3rd place:
Ellie-May Stacey
Runners up:
Zuzia Bialas
Mackenzie Bolt
Henry Plume
In his entry, Dawid described how the town mayor organises a snowman-building competition when bad weather forces the narrator's school to close.
Here's an excerpt from his entry:
'Of course, I, as the finest, incomparable, outstanding, supreme snowman building champion, was going to win. The prize was a premium deluxe limited edition snow sled – and that was the one thing my life required. In order to enter the competition, you had to build a snowman in your back garden, and the mayor would send a helicopter out to take pictures of every single one. I had to get started fast.
'I sprinted into my back garden and got to work. My thoughts were that I needed something unique and unexpected, to catch the mayor's eye. I heard the mayor liked helicopters, so I made it a helicopter pilot. I constructed it approximately the same height as me, and even made some angle measurements, which made me feel like an engineer. A snow engineer.'