Combined Cadet Force recruitment drive for September intake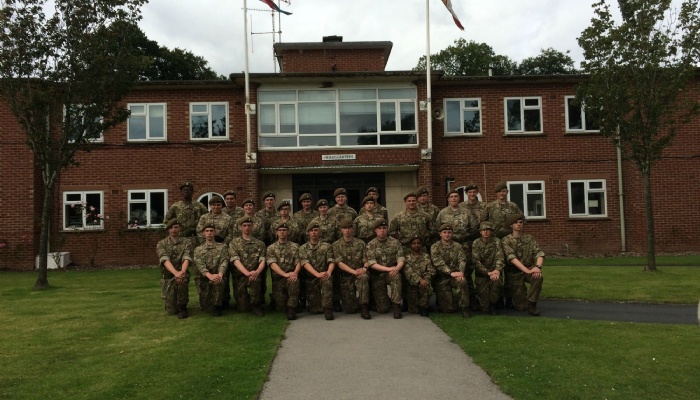 New recruits are being sought to join the Brooke Weston Trust's Combined Cadet Force.
The current Year 8s are able to apply to take part in years 9 and 10, with the option to return if they stay on at sixth form.
With spaces for 14 cadets from TCA, those wishing to take part must complete an application form. Applicants' behaviour in school will be looked as, as will their school work. The level applicants are working at is not a factor; only that they are working to the level expected of them.
Students do not have to have taken part in similar activities before to be considered for the group.
TCA's
CCF co-ordinator Miss Rose said: "It is a privilege to be part of the CCF so we're looking for enthusiasm and good behaviour.
"Doing something like this develops skills like teamwork, leadership qualities, independence and confidence. Students will learn navigation skills and will experience living in the field.
"What we've found in previous years is that it's given students a focus in school."
Sixth Former Aaron Neal is now a corporal within the CCF after joining in Year 9. He said his interest in the military began when he saw a Red Arrows display at the Queen's garden party he attended. He has since joined the local air cadets group, where he is also a corporal, and is keen to become a Royal Marine.
"Being part of the CCF is one of the most fun things I've ever done," Aaron said.
"It's taught me respect because you have to listen to those in higher authority. You have to respect the rank.
"I'm now one of the more experienced cadets in the CCF and I've been on three camps. The camps put
what we have learnt into practice.
"It's given me confidence and leadership skills – I'm not afraid to stand up and speak in front of people and I've learnt how to take control of a situation. I'm now involved in helping teach the younger cadets and I have to look at how I'm going to run a task. It's also developed my quick-thinking."
Activities that Aaron has taken part in include kayaking, rock climbing, camping, setting up zip wires from one rock face to another and adventure training days.
The Year 12 student, who is taking A levels in maths, physics and dance, added: "To go in to the RAF at officer level you need A levels so that's given me a focus – if I don't get them, I can't do what I want to do."
The CCF's School Staff Instructor, WO1 RM Nigel Barrett, has proved to be a particular influence on Aaron. WO1 Barrett, a Royal Marine for 22 years, served in the Falklands and Northern Ireland.
Cadets in the BWT CCF parade at Corby Business Academy on Wednesday afternoons, which requires the group to leave TCA during period 2.
There will be two weekends at military training camps and a week-long camp in an Army training area.