Local author encourages students to 'dream big'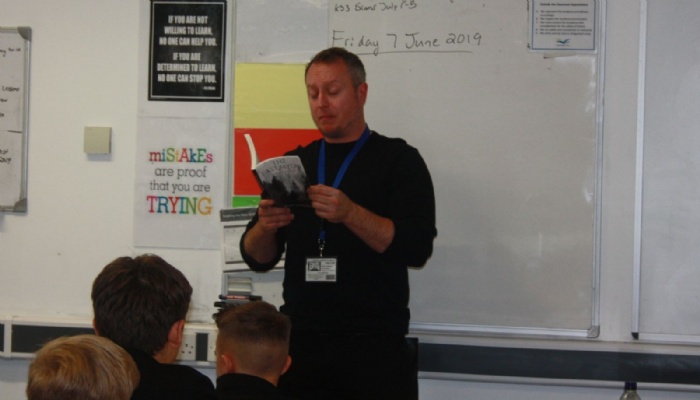 An author from the area spoke to Year 7s about his writing career and encouraged them to 'dream big'.
Rudi Jennings released his debut novel, a fantasy adventure entitled The Last Myon, in 2017 and is currently working on the sequel.
During his recent visit to the academy, Rudi spent time discussing his career and inspiration for his work before answering students' questions. He then set the class a creative writing challenge where they could either create a fantasy character or write a fantasy story.
Rudi also read them an extract from his book before students who had bought copies were able to get them signed.
All students received a bookmark on which Rudi had written the words: 'Dream big'.
Mr Bronizewski, English Key Stage 3 Lead, said: "Rudi was really inspirational as he told students all what he's done in his life so far, including working as a bodyguard, living in America and even meeting Beyoncé!
"He explained that he'd always enjoyed writing so one day, he just sat down and started writing.
"He kept linking back to the curriculum and it was really useful because these students will be doing a piece of creative writing for their end of year exam so it was helpful to make that link. It was good for students to get the perspective of an author and hear his tips.
"Rudi was full of inspiration and motivation and because he is from the area, students could relate to him. The students have even asked for more author visits."