Student invited to opening of exam group's new headquarters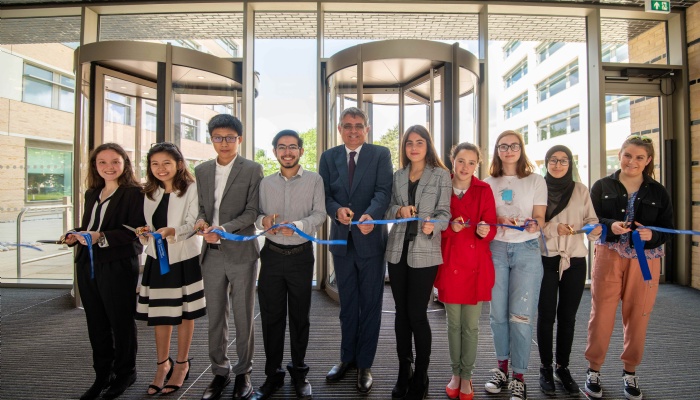 A sixth former was a guest of honour at the opening of Cambridge Assessment's new international headquarters.
Anna Ivaskevica (pictured third from right in top photo) was invited as a UK representative to open the new Triangle building, along with nine international students who represent learners around the world who take assessments with Cambridge Assessment.
Cambridge Assessment is a department of the University of Cambridge which delivers examinations through its UK board OCR, as well as its international exam boards. Each year more than eight million learners across 180 countries take one of its qualifications.
Anna, who is in Year 12, took part in the official opening of the Triangle building and met the CEO of Cambridge Assessment.
She said: "Everything they do is about the students so they thought it would be good to have us represented at the opening of their new building.
"We also visited a warehouse where exam papers are printed. We heard how complicated it is to design an exam paper and how it takes 18 months to come up with the final paper – the ones I'll be doing next year are already being written."
Anna is studying history, English literature, chemistry and Russian at A level and is hoping to apply to the University of Cambridge to read English literature.
She was given a tour of one of the university's colleges, gained an insight into the admissions process and heard from students currently studying at the university.
Anna also enjoyed a tour of the city, which included a trip to the Fitzwilliam Museum and climbing up to the observation platform at Great St Mary's Church to get a bird's eye view of Cambridge city centre.
Photo credit (top picture): Matthew Power Photography