Duke of Edinburgh report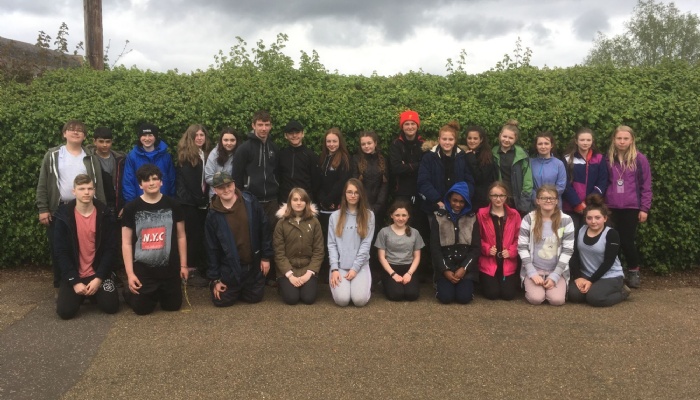 The 2018-19 Duke of Edinburgh's Award program at TCA wrapped up this term with the final of four camping expeditions.
A group of 24 Year 9 students completed their assessed expedition mid-June, hiking around the Rutland Water area. While weather conditions were less than desirable – with the wind, rain and sun taking it in turn to test students' endurance – they persisted and kept up high moral. "It really is incredible," said DofE Leader Miss Willows, "despite the rain, students showed amazing teamwork and resilience and I could not be more proud of them all."
Following student feedback, staff are confident that the students will continue onto the next level: Silver. Mr Wilson, DofE Manager, said: "Bronze is a stepping stone and with so many of our Year 9 students having done so well this year, we're really hoping they see the benefits of this program and choose to come back again next year to have the opportunity to master their skills in the Silver program."
The Silver Award can, however, be started by anyone; Bronze is not a requirement to be able to move forward. The TCA DofE staff are happy and ready to welcome anyone into this level.
The final expedition was completed over the last weekend of June. Two year 10 and four year 12 students successfully navigated their way around the Peak District National Park. Scorching heat and the many steep hills did nothing to deter these students from their end goal. Once again, moral was high throughout and each student demonstrated solid understanding of what was expected of them – showing their growth from the previous practice expedition. "They've come a long way this year and it was nice to celebrate that with them this weekend – playing ultimate Frisbee and chatting was a great way to let them know how proud we are of them," said DofE Leader Miss Baker.
Students of both the Bronze and Silver Award programs need now only to finish up their remaining volunteer, physical, and skill hours in order to fully complete the program. Students have been making TCA proud in this area also: from mowing lawns to taking care of animals in shelters, from cooking to playing tennis, and from working in charity shops to supporting staff at the annual Race for Life, TCA students have been showing just how much a little bit can go a long way.
Mr Wilson is moving on to pastures new next year, with Miss Willows taking on the role of program manager. He said: "It's a little bittersweet, if I'm honest. While I'm looking forward to continuing to lead DofE programs elsewhere, I'm also sad that I'll be missing all the incredible achievements my students here will be making."
In September, students will be able to sign up for the new year of the Duke of Edinburgh's Award program – Bronze or Silver. Anyone interested should speak to Miss Willows or Miss Baker.