Sixth formers support Wisbech Reads' Summer Reading Festival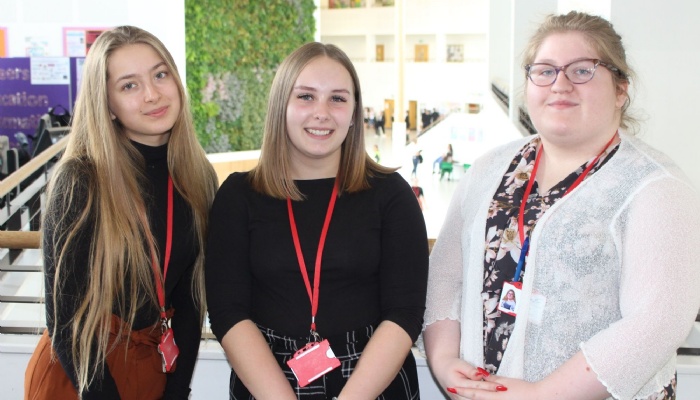 Three Year 12 students helped out at a summer reading festival designed to spark a love of reading amongst young children.
Wisbech Reads Partnership recently held a week-long programme of activities for primary school pupils across five venues in the town. More than 570 Year 1 children took part in drama, poetry and craft activities to help them improve their reading skills in a fun and interactive way. Five children's authors and illustrators were also involved in delivering the workshops.
Staff at TCA asked three sixth formers to help out at the festival - Teagan Lee, Paige Pitkin and Eva Budryte, who are all studying A level English. They spent a day assisting with the organisation of the events and helping to get children involved in the activities.
Paige said: "I enjoyed it because it's not something we'd normally do. It was good to engage with the children and see the different ways they learn about language. I think it's good to get children interested in reading at an early age so that they go on enjoying it for the rest of their life and it will help to improve literacy rates in the area."
Teagan helped out at the museum where children were challenged to find interesting words and make puppets. She also spent time at the library, saying: "The children were shown how to find books and were encouraged to come back in with their parents and get library cards.
"Reading has always been important to me as it expands your vocabulary and helps with spelling and communication.
"The children seemed to really enjoy the Reading Festival and the feedback from teachers was very good."
Also helping out at the festival was Mr Bronizewski, TCA's Key Stage 3 Lead for English, who has been working closely with primary schools in the area to aid the transition to secondary school.
Festival activities took place at the castle, museum, library, the United Reformed Church and the Church of St Peter and St Paul. The event was organised by Wisbech Reads, a partnership of organisations in the Wisbech area which work together to improve literacy. Partners include 20Twenty Productions CIC, Cambridgeshire ACRE, Cambridgeshire County Council, Wisbech Town Council and the Wisbech Schools Partnership.