Students serve up Thanksgiving meal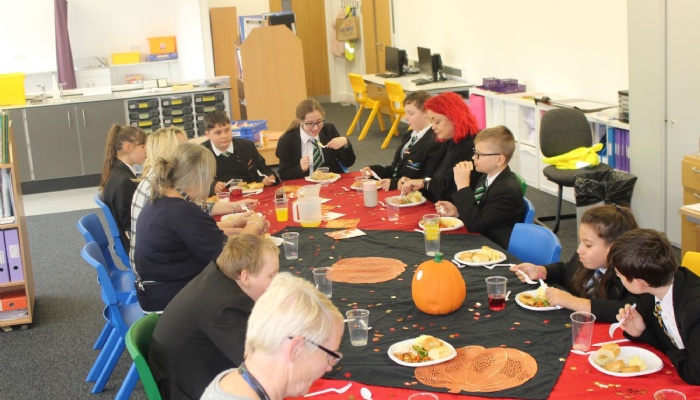 A group of students planned and prepared a Thanksgiving meal in the sixth event of its kind at TCA.
The annual tradition was first introduced in the Cooper Centre with the arrival of Assistant SENCO Ms McNicol, who is Canadian.

Every year, they select a date which falls between the Canadian Thanksgiving date in October and the American Thanksgiving date in November.

Students learned about how each country celebrates the event before using numeracy and literacy skills to work out the cost of the ingredients and come up with a menu.

They spent time preparing the food – chicken, carrots, sweet potatoes, mash potatoes and parsnips, along with pumpkin pies which they took home with them. Students spent time discussing the things they are thankful for before sitting down to enjoy their
meal together.

Two members of staff delivered a family-sized meal and two pumpkin pies to student Sophie Clarke and her family when she was unable to attend the event in school.

Ms McNicol said: "It went really well – the students always amaze me in helping with the different stages of food preparation and trying all the different foods – some of them hadn't tried pumpkin pie before but gave it a go."

Lewis Clarke in Year 8 said he enjoyed working as a group to put the meal together, while Year 7 student Lucy Bliss, who likes to cook, said it was her first time making a full roast dinner.