Literacy evening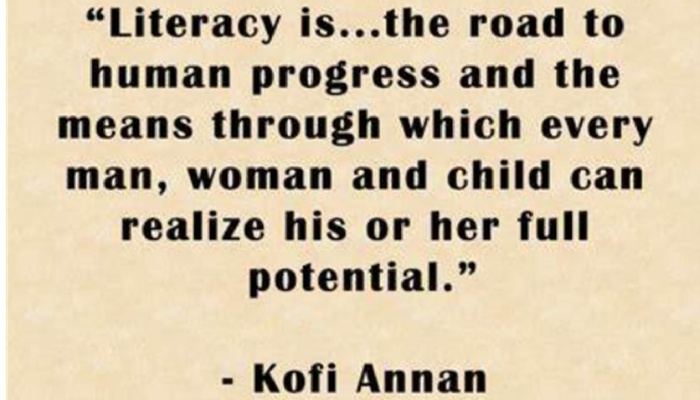 Parents attended a literacy evening to hear how they can best support their child's reading and the development of their vocabulary.
Invited families of Key Stage 3 students heard how reading not only benefits children academically in all their subjects but also helps them to become well-rounded citizens in society.
Staff outlined the two online programmes being used by students – Accelerated Reader and Bedrock – to increase their confidence in reading and their understanding of vocabulary.
Parents were then able to see the programmes in action with sessions held in the library.
Lisa Tarsitano, Vice Principal for Raising Standards, said: "As a reading school, we are always looking at ways to promote and improve engagement of our young readers.
"This information evening allowed us to share strategies that we are using to support their children with literacy at school.
"We also shared top tips and quick wins for parents to use at home to help.
"Parents were given a demonstration of Accelerated Reader and Bedrock and had the opportunity to tour our library to pick out suitable books with their children.
"Lots of great conversations happened and I cannot thank the parents, students and staff enough for their attendance and engagement."
The 'literacy for life' presentation included tips on how parents can support their child:
Read in front of your children
Encourage your child to read for 30 minutes every day (read to them, listen to them read)
Ensure that your child is reading a range of literature and is being challenged – help them to find something they are going to be interested in
Show an interest in what your child is reading. Ask your child questions about what they are reading
Make sure that your child keeps a book in their blazer pocket
Read an article from a newspaper (or online news feed) to your child and ask them for their opinions
Take your child to the local library (or library bus) and choose books together.
This term, several new initiatives have been launched to develop students' reading, including the Paired Reading programme, which sees Year 7s read to a Year 10 students, and an after-school reading club for Year 7 students.
Click here to view the presentation.
Click here for more details on Accelerated Reader and Bedrock.
Contact details for heads of year:
Year 7 – cthomas@thomasclarksonacademy.org
Year 8 – pwinfield@thomasclarksonacademy.org
Year 9 – jcronin@thomasclarksonacademy.org
Mrs Tarsitano (VP Raising Standards) – ltarsitano@thomasclarksonacademy.org