Students compete in Kids' Lit Quiz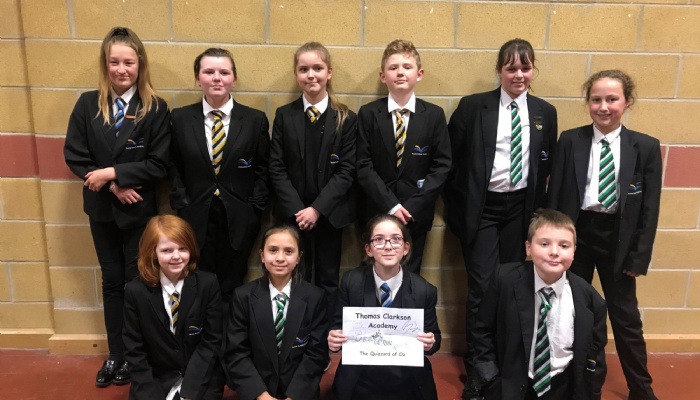 A group of Year 7 and 8 students tested their knowledge of books and met six popular authors when they competed in the Kids' Lit Quiz.
Two teams from TCA - The Quizzard of Oz and Professer Quizzel – battled it out against 27 other teams from the region during the lively event at Comberton Village College.
Participants were challenged to answer 10 questions in 10 rounds from a wide range of literature, with themes including vegetables, twins and pictures.
Authors Julian Sedgwick, Chris Priestley, Helen Moss, Inbali Inserles, Katie Dale and Andy Briggs also joined in, and afterwards they met students to answer their questions and sign books.
The Kids Lit Quiz is an international competition which sees teams across the world competing in heats in a bid to reach the world final.
Several of our students have been meeting in Session 5 during recent weeks to prepare for the quiz.
The students who went along to the event were:
Rebekah Karosaite-Dosreis
​​​​​​​
Ella-Louise Shepherd
Grace Horlock​​​​​​​
Emily Wheeler
Joshua Morley
Sydney Marshall
Gracie Terry
Emilia Morkis​​​​​​​
Emily Drew
Noah Date
Librarian Miss Robinson said TCA students who took part were a credit to themselves and the school. She said: "The idea of taking part in something like this is to encourage our students in the sport of reading. The quiz covers anything to do with children's literature, from classics to comics to newly-released books. It gets them thinking about the range of literature that is out there."
Student Sydney Marshall said: "I really enjoyed my time on the Kids' Lit Quiz trip as I got to take part in something fun and interesting that tests your knowledge. Working with the Year 7s was good as I got to meet people I didn't know before. We had fun!"
Emily Drew agreed, saying: "I enjoyed the quiz - it was really fun. The atmosphere was great and every question was a different type of question. I hope to be able to take part in these sort of quizzes again."
Gracie Terry added: "It was excellent because I met all of the authors, but the best part of it was that we all had fun and did it together as a team. I bet everyone else will say that it was the best time at school that they've ever had!"