Student leadership team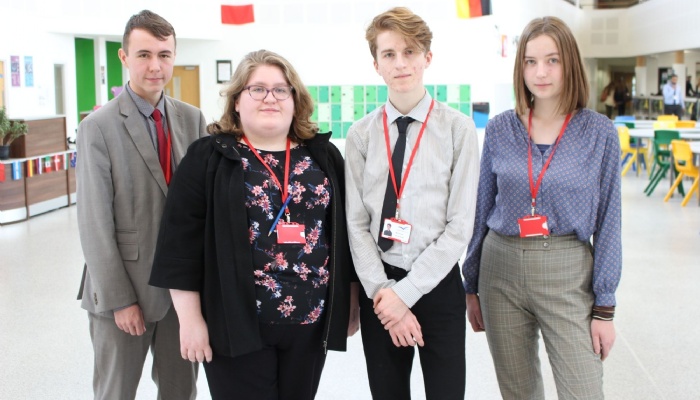 TCA has appointed its student leadership team to ensure our student body is involved in the development of the academy and plays a key role in the improvement of the student experience.
The following students have been appointed:
Head Boy - Max Hamilton
Head Girl - Teagan Lee
Deputy Head Boy - Joshua Watson
Deputy Head Girl - Krystyna Sanecka
As well as getting involved with school events, the group will also provide a link between students and TCA's senior leadership, to ensure students' feedback is heard and acted upon where appropriate.
The team has also been responsible for recruiting fellow students to become leads in the following areas: cultural, academic, anti-bullying, diversity and the environment.
It is Max's first year at TCA after he joined our Sixth Form at the start of Year 12, and he said he is determined to have a positive impact on his new school.
"We really want a focus on environmental issues," said Max, who is taking A levels in English literature, history and sociology. "We're looking into things like separate bins for recyclable items around school and a limit on the amount of plastic that's used. We also thought about the idea of students who are in lunchtime detentions carrying out litter picks around the school grounds."
Max said they were also keen to develop a Pride month at TCA and to do more to celebrate events like Black History Month.
Head Girl Teagan, who is studying English literature, business and media A levels, said she applied for the role because she has been part of TCA's journey. She said: "I felt that because I have been a student here for a while that I really know the school, and I've seen it develop and the changes that have been made.
"One thing I'd like to see more of is students looking in detail at world news, to give them a wider understanding of the world and help them mature."
Deputy Head Boy Joshua said now he is one of the older students in school, he feels ready to make a difference, while Krystyna, who joined TCA in Year 10 when she moved from Poland, was keen to continue a role she'd taken on in her previous school.
She said: "I'm shadowing the academic lead, an area which I think is one of the most important things about the academy. I want to encourage students to look at the opportunities available to them as early as possible, such as university summer schools. I think they should explore their options in depth before they decide which subjects to take."