Boxer reveals how he overcame adversity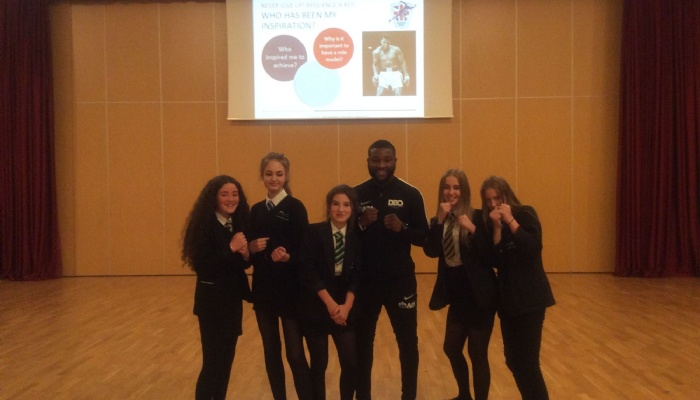 A professional boxer who says his love of the sport helped to turn his life around spoke to students about how he overcame adversity.
Derrick Osaze, the winner of the Ultimate Boxer III tournament earlier this year, described how boxing helped to change his life, after he came close to being expelled from school.
He told students that anyone can achieve their goals and that nothing should stand in their way.
Derrick delivered growth mind-set workshops and answered students' questions – of which there were many!
Head of PE Mr Cooper said: "Derrick was fantastic - an inspiration for our students. They responded really well to the message he was delivering, so much so that he barely managed to get out of TCA - all the students wanted their picture with the "Punching Preacher".
"After the event several students have been to see me asking how they can get into boxing, so we will put them in touch with local clubs."
Derrick turned professional two years ago and has gone on to win all of his 10 professional fights.
He received a call-up to attend a selection camp for the African Olympic Qualifiers for the Rio 2016 Games, but felt it was too early in his career.
Derrick is the founder of AIM Youth, an alternative education provider which delivers programmes to young people with the aim of inspiring and motivating them so they maximise their potential and achieve their ambitions.
His visit to TCA was organised through the social enterprise, Inspired Through Sport.