Students Take Part in Engineering Day at Major Development and Engineering Company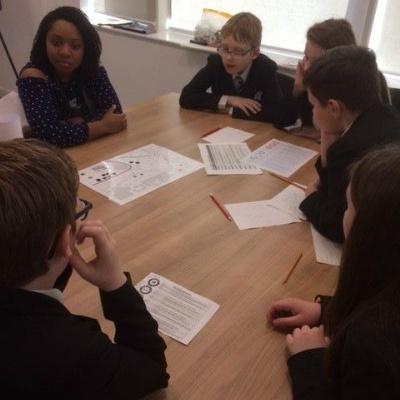 Five Year 8 students who have demonstrated a talent for science took part in an 'inspiration day' at Mott MacDonald in Cambridge.
Korben Coleman, Pijus Lucinskas, Emily Reach, Kieran Taylor and Ellie-Shae Williams joined students from other schools for the engineering and construction day at the firm's Cambridge office.
Facilitated by Enabling Enterprise, the event was designed to develop students' employability skills. They started by introducing themselves before taking part in a question and answer session with staff from the firm. They had a tour of the office and spoke to members of the international education team, who deliver advice on issues such as water irrigation to governments in other countries. They examined what skills are needed, such as problem-solving, negotiation skills and using your initiative.
In the afternoon, the five students took part in a competition against pupils from other schools. They were given a map depicting a made-up town, marked with three potential sites for residential buildings. They started by listening to clips from members of the community, including the town Mayor, students, workers and families, before they selected a site to develop. The group then had to look at how much it would cost to build nine flats and how much profit they would make before constructing
a scale model of their design using basic materials. It had to incorporate certain elements, such as a community area and an ecological component.
CEIAG ambassador Vicky Read said: "The day gave students an insight into the world of engineering. One of our students said she didn't realise the range of things a company like Mott MacDonald are involved with, such as education and working in different countries. It really opened their eyes as to how one company down the road in Cambridge can work across the board and across the world."