Preparations Under Way For TCA's Biggest-Ever Show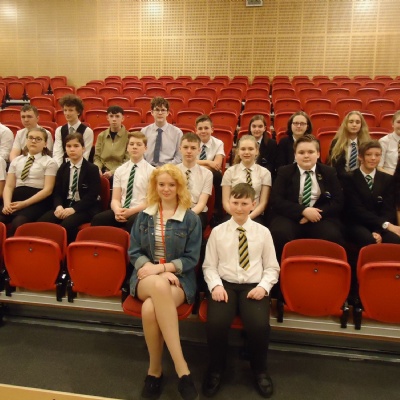 The Academy is busy preparing for what will be the biggest production it has ever staged, as rehearsals for Little Shop of Horrors get under way.
Thanks to the success of last year's performance of School of Rock, hundreds of students were keen to audition to appear in the show, which is set in a florist's shop in New York and features a talking, blood-thirsty venus fly trap.
Taking the lead roles in the horror comedy are Matthew Skuse (Seymour), Kira Smith (Audrey), Jake Findell (Orin) and Dylan Graham (Mr Mushnik), while Melissa Middleton provides the voice of the flesh-eating plant.
This year, a professional set and puppets are being brought in to provide a colourful, lively backdrop to this quirky comedy. The largest version of the plant features a slide so it can 'swallow' someone whole.
Around 40 students from across all year groups are taking part, with roles including acting, puppeteers, backstage help and the ensemble. For the first time, a live band will provide the music for the entire show.
With so many students wanting to get involved, staff held a number of workshops before students were put forward for auditions.
Over the last few weeks, the cast and musicians have been busy learning the show's songs and have started performing them in the theatre. Rehearsals are held on Mondays and Wednesdays after school, with students set to rehearse over the weekends as the opening night draws nearer.
Drama teacher Julie Wilcox said: "The students were over the moon when we told them what show we'd be doing this year because they always want to go bigger and better. It's a fun and exciting show with different elements, such as the puppetry. The plant starts off as a glove puppet and ends up filling the stage and needing two people to control it.
"We'd love for as many people as possible to come along and support us - hopefully people will remember what we did last year. We have a lot of talent in this school and amazing young people; they put a lot of time into making this happen.
"It's not just about supporting our students – it's really good evening of entertainment too."
Little Shop of Horrors takes place in the theatre on July 4th and 5th, starting at 7pm.
Tickets are £5 via Parent Pay or are available from Mrs Wilcox.