Race for Life: TCA Fundraises in Memory of Popular Colleague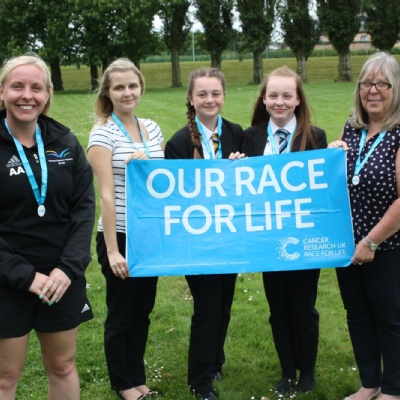 TCA is throwing its support behind this year's Race for Life as staff and students prepare to run in memory of an inspirational and popular colleague.
Nicki Cobbin worked at TCA and its predecessor school for 25 years before she lost her battle with cancer on July 1st last year.
It means that this year's Race for Life has added poignancy, with TCA hoping to raise thousands of pounds in memory of Nicki.
Just before the start of the event on Thursday 28th June, a tree will be planted in the school grounds to honour Nicki's contribution to the lives of young people in the community.
Nicki worked closely with students who needed extra support and staff remember a warm, approachable colleague who always had her students' best interests at heart.
Staff have set up a fundraising page in Nicki's memory, saying: "Nicki was a wonderful friend and colleague and she was a huge part of Thomas Clarkson Academy.
"Nicki put her everything into making sure the students could achieve their potential and she was described by them as inspirational, nurturing, caring and colourful. She was always seen as a statement of colour, wearing bright bold colours and having a happy and welcoming approach to both staff and students."
Nicki's husband Terry will join staff for the tree-planting ceremony before the race gets under way at 6.30pm.
Last year, the Academy raised more than £4,000 and there are hopes that this year's event will beat that figure.
Entry to the 5k race is £2 for under 18s and £5 for adults. Each entrant will be given a race number and a memory sheet for their t-shirt (please note - no race number, no entry).
To secure a place, entry fees and registration forms must be returned to Student Services by Friday 22nd June.
With hopes of a good turnout from students, siblings, parents, staff and governors, anyone wishing to participate is urged to submit their entry as soon as possible.
To donate to the fundraising page in memory of Nicki, visit https://www.gofundme.com/in-memory-of-nicki-cobbin.