Teacher Scales New Heights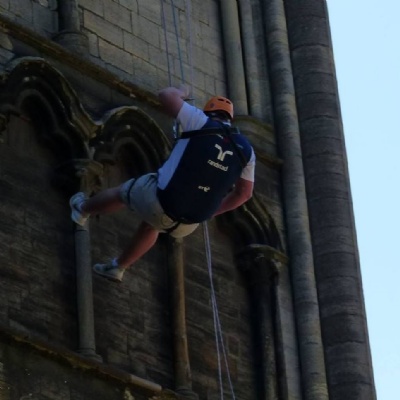 Teacher Jeff Wilson proved the sky's the limit after abseiling 150 foot down Peterborough Cathedral.
The business studies teacher, a self-proclaimed adrenalin junkie, took on the challenge held to celebrate the cathedral's 900th anniversary.
The event also raised money for the spina bifida charity Shine and for the upkeep of the historic cathedral.
Mr Wilson said the abseil got off to a challenging start as he had to negotiate a narrow spiral staircase towards the top.
Once he made it to the top, he had a few minutes to take in the spectacular views of the city before the hair-raising moment arrived when he had to lean backwards away from the edge of the building.
Mr Wilson said: "I started off quite slowly so I went a bit quicker – until I realised I was going a bit too fast! I burnt my hands a bit trying to slow down, even with gloves on.
"It only took about two-and-a-half minutes but it was more physical than I thought it would be. You needed physical strength to control your pace.
"When else would you get to abseil down a 900-year-old building like James Bond? You only really get one chance to do something like this."