Students Co-Host Gala Dinner With Sir Lenny Henry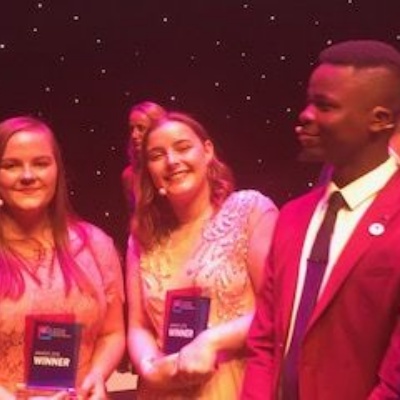 Two students took to the stage alongside comedian Sir Lenny Henry to co-host a business awards ceremony in front of an audience of 1,500 people at the Royal Albert Hall.
Charlotte Cameron and Sebastian Njingo, along with Chloe Browne as reserve, were chosen to help host the Responsible Business Awards gala dinner held by Business in the Community. They were selected to take centre stage after entering a youth talent competition organised by Anglian Water, a partner organisation of the awards.
Charlotte, who is in Year 13, said the prestigious event, which was attended by senior leaders from the world of business, was an incredible opportunity.
She said: "I was really excited about taking part. I didn't fathom the size of the event until we got there. We started the day with a tour of the Royal Albert Hall and we worked with a voice coach who gave us pointers, which for me was to talk more slowly. We had an autocue to read from so we had a full run-through of the evening.
"I went through the day thinking, 'there's nothing to be nervous about'. Our coach Rosie had told us to
be positive and that if you think about feeling nervous, you will be. The first time I felt a buzz of nerves was just before we went on stage. The CEO of Anglian Water, Peter Simpson, played a video about Wisbech and we were introduced so the audience knew why we were there. There were about 20 awards to present.
"My dad was directly in front of me in one of the box seats and I hadn't really seen him all day, so when we'd finished and they came to see us, I just cried because I was so overwhelmed by emotion. I was really proud of what we'd done."
In the week prior to the awards, Charlotte, Seb and Chloe enjoyed another fantastic occasion – meeting HRH The Prince of Wales at Clarence House. Business in the Community is one of The Prince's Charities, a group of not-for-profit organisations of which Prince Charles is the Royal Founding Patron. As he was unable to attend the awards ceremony at the Royal Albert Hall, those involved were invited to Clarence House on June 26th to meet him.
Charlotte said: "There were armed guards about as we waited outside and the anticipation was mounting. We were the first group His Royal Highness spoke to and I thought to myself, 'I've met the future King of England'. He asked us what we'd done to be there and he was really down to earth. He made quite a few jokes and made us feel comfortable.
We'd met Lenny Henry just beforehand and he'd put us at ease – we spoke to him about Premier Inn! It was a surreal day. Lots of business people came to speak to us too as we'd won the competition."
Seb, who is a Year 12 student, showed Prince Charles a picture he'd drawn of the Prince and Charlotte said: "You could tell from his face that he genuinely loved it."
Many thanks to Anglian Water and Business in the Community for this fantastic opportunity for our students.