A Level Results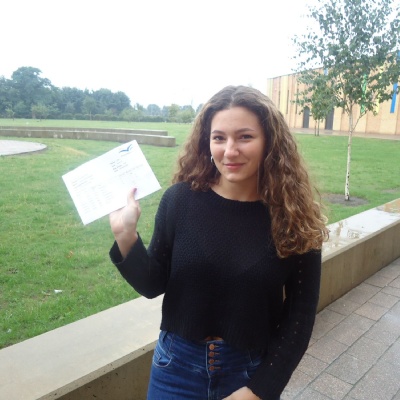 Students from TCA are again going on to prestigious Russell Group universities for the second year running.
The number of students achieving top grades in maths has increased thanks to the Academy's drive to improve outcomes for students by creating a culture of ambition. 100% of students passed A Level mathematics, with 57% gaining A*-B grades. A Level chemistry and physics also celebrate a 100% pass rate.
Associate Principal Richard Scott said: "We're very pleased that the school continues to make progress and that we're sending students off to a variety of universities to study a broad selection of courses.
"We're very happy to report that a number of students have done very well in subjects such as the sciences and we've delighted to see more A grades in some of these areas."
Some of the students' destinations include King's College London and the University of Nottingham.
Deputy head girl Alicia Baghdouyan was delighted to secure her place at King's College to study biomedical science after achieving an A in biology, a B in maths and a B in chemistry.
She said: "I was so nervous this morning. I was actually in the middle of brushing my teeth when someone on the King's College biomedical science group chat said you could see online if your place had been confirmed. When I looked, it confirmed my place and I just screamed. I had a mouthful of toothpaste while I was shouting to my mum! I was so happy.
"I'm looking forward to starting the course. I'm hoping to apply to do medicine at the end of it but I'm also interested in the research side of biomedical science too. I'd like to do a year abroad – one of the placements the university offers is at UCLA in Los Angeles and I'd love to go there.
"There are lots of opportunities so it will be nice to get to university and see what's out there. It will be strange going from a small town to a big city like London. It will be very different but I'm really looking forward to it."
In October last year, Ofsted inspectors judged TCA's Sixth Form as 'good', noting that 'leaders have high expectations' and that students make good progress.