GCSE Results Day – Student Success Stories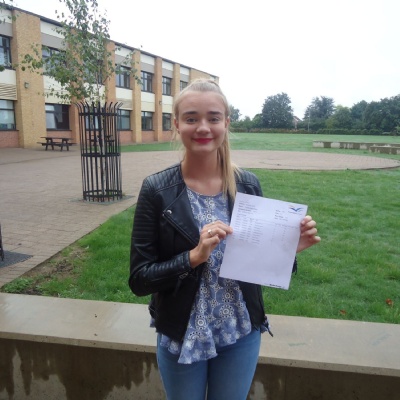 Following months of hard work and countless hours of revision, GCSE results day finally arrived and students came in early today to collect their results.
There were some delighted smiles, celebrations with friends and emotional calls home as TCA secured its best set of GCSE results to date.
We've been speaking to students who are now planning their next steps with excitement.
Louise Plater (pictured above) achieved two 9s in chemistry and maths and four 8s, two 7s and a 6. She said: "It feels like these are someone else's results! I was shocked and happy when I opened them. I wanted to do well for my teachers, too.
"I'm staying on at TCA to do A Levels in maths, further maths and psychology."

Anna Ivaskevica notched up six 9s in biology, chemistry, physics, history, maths and English literature as well as two 8s. She said: "I'm really excited because they're much better than my mock results. I'm most proud of the chemistry and history grades because I found those the hardest."
Callum Sturman picked up three 8s in chemistry, maths and physics, along with a 7 in biology, a 6 in
geography, a 5 in English language and a 4 in English literature. He said: "I never expected to get an 8 in physics - I've improved my mark by two grades. I had a lot of confidence going in to the exams because of all the revision sessions the teachers put on. We'd do a full day of revision the day before an exam to go over everything. That got you in the right mind-set."