New Sixth Form Student Leadership Team Appointed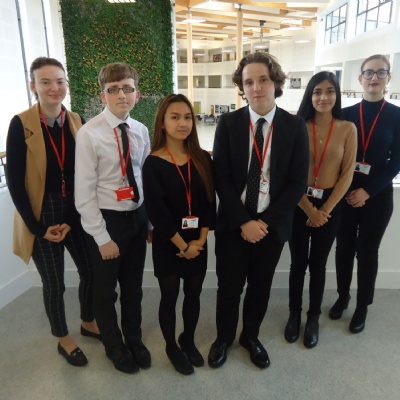 TCA's new Head Boy and Head Girl have been appointed alongside the creation of other new leadership roles for Sixth Formers keen to play a part in shaping academy life.
Following a rigorous selection process, in which applicants had to submit a written statement before being interviewed by the Associate Principal and Head of Sixth Form, the following roles have been filled:
Head Girl: Kate Filart
Head Boy: Zack Alden
Deputy Head Girl: Jasmin Tura
Deputy Head Boy: Hayden Hunnable
Anti-Bullying Lead: Kira Smith
Academic Aspiration Lead: Anna Ivaskevica
Head of Sixth Form, Jess Smith, said: "All six have demonstrated that they are excellent role models for our students, with outstanding passion, enthusiasm and drive to lead our student voice.
"Due to the strength of the field, we decided to utilise all of their very different qualities and ideas to build a leadership structure incorporating all the applicants."
Head Boy Zach is studying English literature, history and sociology and is hoping to go on to university in Birmingham to study sociology. He moved to TCA in Year 10 and is looking forward to representing TCA because he says "it's a school for everybody".
"I applied for the role of Head Boy because I think it's good to have a responsibility," he said. "It means when I go to university I won't struggle with the idea of responsibility and I'll have experience of helping with events and building good relationships with other students."
Head Girl Kate is studying psychology, chemistry and biology and is aiming to studying medicine at university in Nottingham.
She said: "I've never had the chance to sit on a council before and I think I can bring about change. Before I leave school and go to university, I wanted to make a contribution to the school because they have done so much for me. There's so much potential here."
The pair are hoping to help put on more events that bring students together. They will head up the student council and feed back comments and suggestions to the senior leadership team.
Two new leadership roles have been created – an Anti-Bullying Lead and Academic Aspiration Lead.
Kira is looking forward to supporting students in her anti-bullying role – read more here.
Anna, who celebrated outstanding GCSE results this summer with six 9s and two 8s, believes good exam results can make a huge difference to a student's life – a message she is keen to share with younger students.
In her new role as Academic Aspiration Lead, she will lead a group of student mentors to help in each subject and support student progress.
Anna said: "Getting good grades can make the world of difference. It means you can go to university if you want to, get a decent job and change your lifestyle. I want to get a good job so that life is not a struggle and so I can provide for my family in the future."
Anna is studying history, English literature, chemistry and psychology. She is aiming to study English literature at university, with a view to working in the world of publishing.