Polar Ambassador Who Climbed Everest Shares His Inspiring Story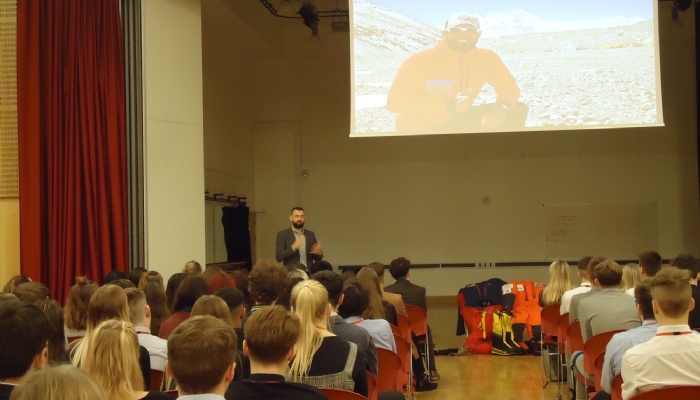 A mountain leader who scaled Mount Everest shared the story of his journey from an estate in Glasgow to the highest point on Earth during a thought-provoking talk aimed at encouraging students to pursue their dreams.
Ricky Munday, an accountant who has also worked as an overseas aid worker and as Head of Corporate Services for the British Antarctic Survey, described the extreme conditions he endured to conquer Mount Everest.
He told students that after an initial attempt to reach the summit was thwarted by exceptional weather conditions, he drew on what he'd learnt and achieved his goal the second time around.
Ricky described to students how low oxygen levels on the mountain meant it could often take 20 minutes to put one boot on and that at one point during his first attempt, he couldn't sleep or eat and was having to rest after taking just a couple of steps.
He told them how a fellow climber ended up having to be rescued after becoming separated from the group and had to have parts of two fingers amputated because of the damage done by frostbite.
With an average of 10 people losing their lives on Everest every year, Ricky talked about what he had to overcome to complete one of the world's toughest endurance challenges.
Describing the moment he reached the summit at 6.15am, Ricky, who has a fear of heights, said: "All my breath left my body and I started crying a bit. My dreams took me from Glasgow to the highest mountain on Earth."
Sharing how he got to that point, Ricky said he was inspired to leave his job in accounting after spending time working in an orphanage in Kenya. He went on to work for a number of NGOs and aid agencies in Sudan, Bangladesh and Haiti and has also taken part in a number of expeditions across the world.
Ricky has recently founded Inspire Alpine, a social enterprise that aims to help close the attainment gap between disadvantaged young people and those who are more affluent and in his role as Polar Ambassador, Ricky visits schools to encourage students to consider careers in the fields of STEM.
He told students not to set themselves limits, saying: "I have worked in six continents – you can work anywhere in the world. You don't have to stay local."